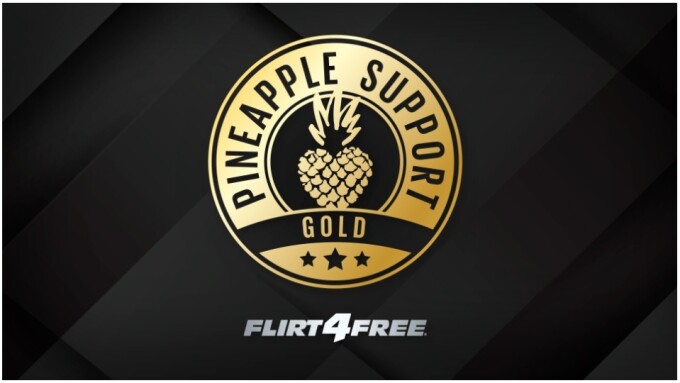 LOS ANGELES — Flirt4Free has expanded its commitment to Pineapple Support as a Gold-level sponsor.
"I'm immensely grateful to Flirt4Free for helping us to shoulder the ever-increasing demand on our services," said Leya Tanit, founder and CEO of Pineapple Support. "Flirt4Free's support helps us amplify the mental health services we offer to our community. We're determined to ensure that one day, every single performer in the industry will have access to stigma-free and sex-positive support. Sponsors like Flirt4Free are getting us ever closer to making that a reality."
Pineapple Support was founded in 2018 and has connected over 5,000 adult performers and industry members with mental health services, including free and low-cost therapy, counseling and emotional support.
Flirt4Free president and CEO David Aguilar described the services provided by Pineapple Support as "a vital, often neglected layer of support" that should be accessible to all performers.
"Let's face it. Stress and anxiety play a bigger role in our everyday lives than ever before, whether stemming from financial struggles, medical issues or the current geopolitical climate," Aguilar said. "Our live cam performers add to that the social stigma of being adult entertainers, a career that requires a lot of discretion and, often, a lot of isolation, as well. They deserve a judgment-free place to seek help when they need it."
Pineapple Support will partner with Flirt4Free's broadcasting team on webinars aimed at helping cam models maintain a healthy work/life balance, noted a rep. Licensed therapists and counselors will provide knowledge on a variety of subjects, such as navigating personal relationships as adult performers and coping skills for the unique and complicated stressors of adult industry life.
"As a company, we aim to provide our performers with the tools for long-term success," Aguilar added. "Access to mental health professionals who understand their lifestyle may be the most important tool of all."
Visit Pineapple Support online and on Twitter.