Discord.com is longer the preserve of just online gamers. Today it is a major chat software and is used by people for everything from customer service for small businesses to family chat groups.
Maybe the people who use Discord today are ones that learned about it years and are now old enough to go watch live porn.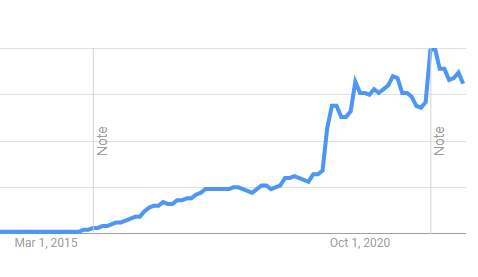 Google trends show growth in Discord
If you are old enough to use Skype then maybe you are old enough to use Discord as well. After all the whole reason for the creation of Discord was the people who didn't find Skype good enough for talking to their friends while they played video games.
And so a new generation of live cam fans who want the cam2cam experience of a live video call now have a new option.
Move over Skype and welcome Discord to the mix of ways you can chat directly with a cam girl.
SkyPrivate.com has been planning to add Discord support for some time now, but it is only in the last weeks that it has gone live.
Not many of the models on the site are actually offering it, but more will be soon.
At the moment I can't find any way to search for which models offer discord, but when you find one it is obvious from their profile.
Check out Adel Smith:
Just to be clear, this is about doing a paid live cam sex show on Discord, using the voice and video calling feature so you can do a face-to-face or cam2cam call with a live model.
It isn't about sexting for Discord as a text chat program.
Try a Discord camgirl online date at SkyPrivate:
Visit SkyPrivate Read the Skyprivate Review Post in the Forum Comment