Camsoda.com accepts payments for tokens in a variety of ways, and that used to include cryptocurrency payments.
Under the old payment system you had a range of crypto options to choose from. These included BTC, BCH, LTC, ETH, TRX, XMR and ZEC. An important option was "BTC.LN" which was their term for Bitcoin on the LIghtning Network.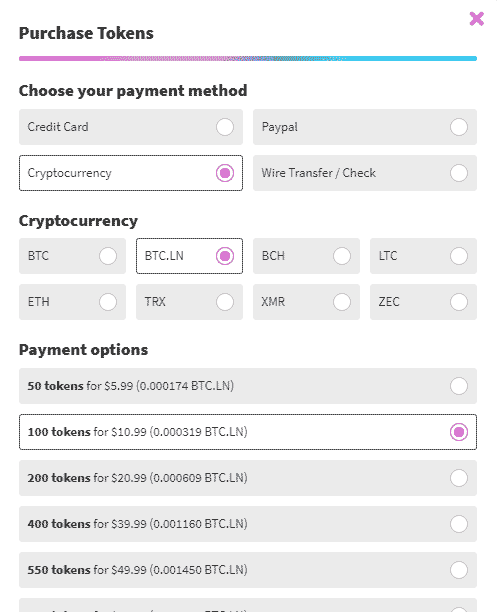 That means not only could you choose Crypto but there was an option for Bitcoin via the Lightning network to get those instant payments.
They started accepting it in 2019 with some fanfare.
But today it isn't working.
Sadly that all cryptocurrency seems to have gone away.
You can still pay using Credit card, Paypal or Wire transfer but there is no longer a working Crypto option.
If you try to select Crypto for a payment method you get a rather bleak and uninformative error message.
Cryptocurrency payments are currently disabled

Stay tuned for the updates
With Bitcoin in the dumps and The Merge for ETH just hours away it is a risky time to hold any crypto. But that doesn't meant that just buying it and immediately using it to pay for services, such as Camsoda camgirls, should be a problem.
The extra safety of having a neutral 3rd party between your bank and a live porn site is something that many people find worthwhile.
Perhaps the function will come back at some point so I wanted to find out more. I tried reaching out to Camsoda and chatted with a Customer Support person at but she couldn't help.
Please note as we do not currently have a provider for cryptocurrency, we are doing our best to resolve this matter and do not currently have any updates as to when it will be resolved
We apologize for any inconvenience this may have caused.
There are plenty of other places you can use crypto to safely and securely pay for your camgirl habit.
But I'd be interested to see if Camsoda is able to make it work again. It seems like a sensible way to get some privacy and safety around camgirl payments.
Have you used Crypto to pay for your camgirl tokens at Camsoda or any other camsite? Did it work out ok? How about as a camgirl receiving payments using Crypto? Let me know!
Visit Camsoda Read the Camsoda Review Post in the Forum Comment